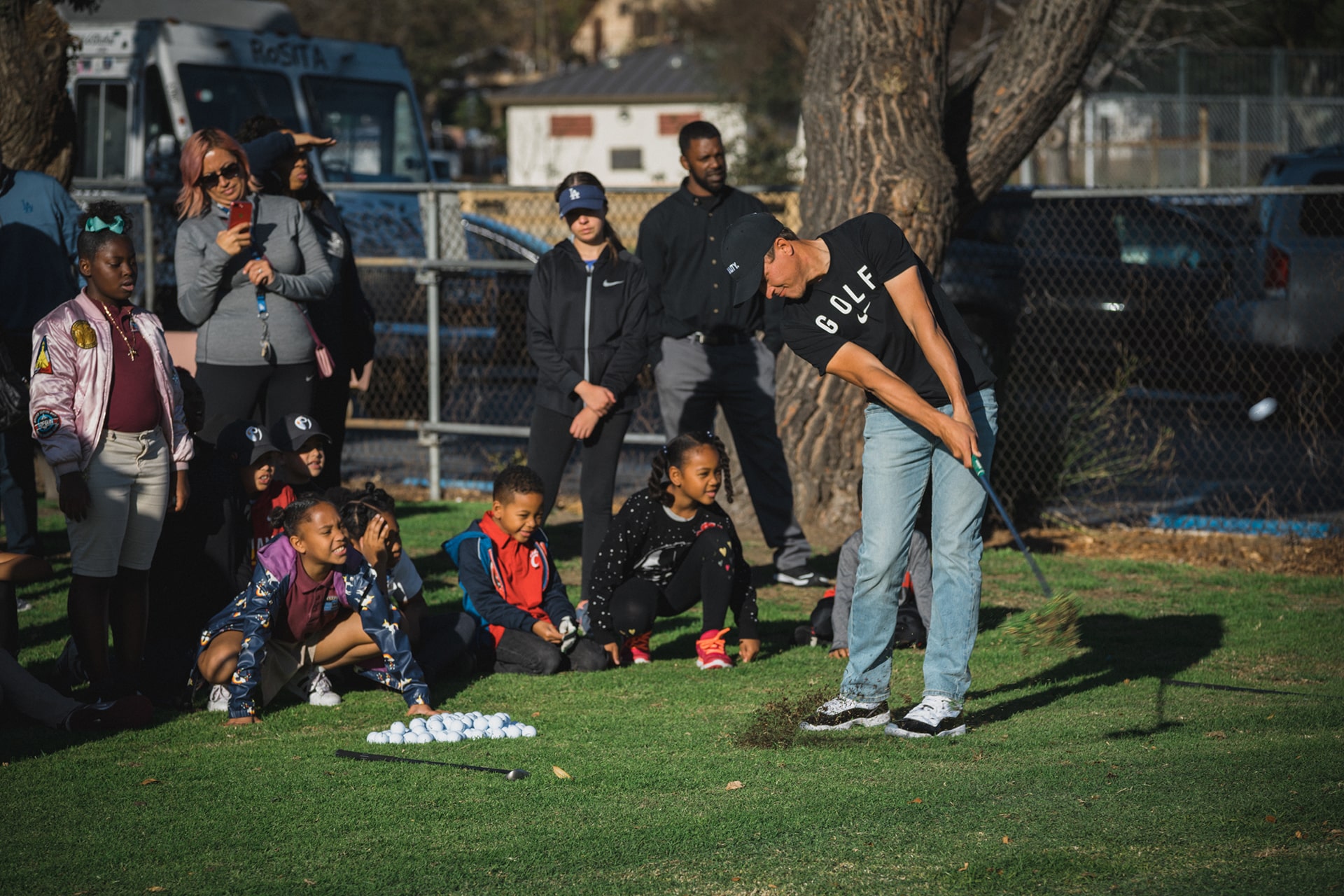 About Our Foundation
Mission
The Cameron Champ Foundation is committed to unlocking the potential in and transforming the lives of youth from underserved and underrepresented communities.
Our Beliefs
Sport is a universal language that taps into young people's passion while instilling values of honesty, grit, teamwork and healthy living.
Golf has the power to change lives not only through competitive success and college scholarships but also as a valuable life skill that can open doors both social and professional.
Education is the key to success for all young people and the most important tool society has for closing the achievement gap for young people of color.
STEM skills are essential for the modern workforce and open up a variety of career opportunities in fields where minorities are vastly underrepresented.
Mentors from similar backgrounds help young people imagine what's possible by demonstrating core values, professional possibilities, the power of empathy, and the importance of giving back.
Nutrition and exercise are the foundation for a happy and healthy life.
Our Motivation
Physically active children are less likely to be obese, to use drugs and smoke, to become pregnant, and to suffer from depression. They have higher test scores, are more likely to go to college, and have higher earnings as adults.
Through golf, children learn the value of integrity, sportsmanship and hard work, and they develop physical and social skills that will pay dividends for a lifetime.
The game of golf needs people of color. According to the National Golf Foundation, only 18% of golfers are non-Caucasian, and only 3% are Black. According to the NCAA, Black golfers made up only 2% of the men's and women's college ranks in 2020.
Eighty percent of the jobs created in the next decade will require some mastery of technology, math, and science, yet 57% of American high school graduates lack comprehension of even remedial math.
Blacks and Hispanics are vastly underrepresented among college degree recipients in STEM fields and STEM jobs.
Afterschool STEM programs provide opportunities for career exploration and access to STEM role models, boost students' proficiency in math and science and increase their likelihood of graduation, and put them on the path to pursuing a career in the STEM fields.
Young adults who face an opportunity gap but have a mentor are 55% more likely to be enrolled in college than those who did not have a mentor. Youth who meet regularly with a mentor are 46% less likely than their peers to start using illegal drugs, 27% less likely to start drinking, and 81% more likely to participate in sports or extracurricular activities.
According to the USDA, 13.6% of U.S. households with children are affected by food insecurity, and 11% of Sacramento County residents are affected by food insecurity.
Our Actions
Mack Champ Invitational
We established this tournament for the game's best junior golfers of diverse backgrounds in 2020. In addition to providing an annual showcase for these players, the tournament is helping players and families navigate the world of competitive junior golf and college recruiting while building a sense of community for players who are too often the only players of color when they compete. Our 2020 field included players from 26 states, Canada and Costa Rica and several college programs, including USC, Tennessee and Howard. Learn more at mackchampinvitational.com.
Golf Programs
The Champ family manages Foothill Golf Course in Citrus Heights, CA, with the intention of making golf accessible to the community and especially its young people. Learn More
Scholarships
We believe that education is the key to success for all young people and the most important tool society has for closing the achievement gap for young people of color. To that end, we have established college scholarships named after legends who overcame obstacles to make golf more diverse and inclusive. We honor their legacies by investing in young people who are inspired to continue changing the face of the game. Learn More and Apply
STEM Programs
We are working to establish a program that will provide local students with tutoring, STEM instruction, golf instruction, nutritional assistance and mentoring.